Kids & Family Yoga classes available online!
Join Kelli Mae every Monday @ 1pm and Thursday @10am PST for an interactive Family Yoga experience via Zoom. Spaces are limited. Email Kelli Mae to choose your date and time. Classes are free or by donation.
Watch a class anytime at our Livestream page
http://trueself.yoga/trueself-livestream/
Winter Family Yoga Sessions
with Kelli Mae
5 Week session for children ages 0-5 and their caregiver with Kelli Mae. Sessions will include age appropriate activities including yoga, creative movement, music, storytelling, rest, and connection. 
January 9 – February 6, 2023
Little Movers – 9:15-10:00am
for ages 9 months – 24 months
Storytime Family Yoga – 10:30-11:15am
for ages 2-5
Register online or contact Kelli Mae for more information: kellimaefly@gmail.com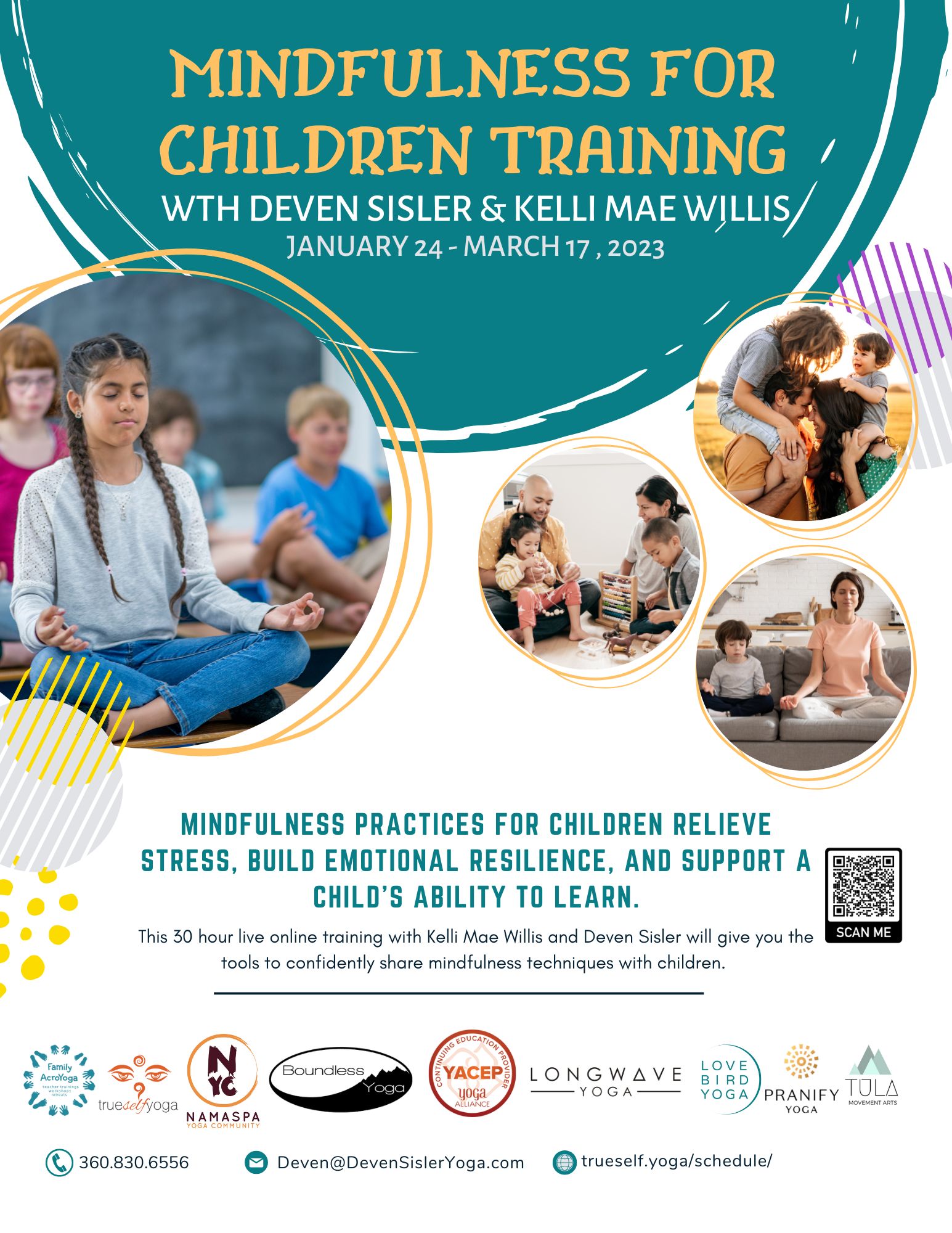 Topics we'll cover:
*Regulation and co-regulation
*Foundations of mindfulness and meditation
*Understanding the "window of tolerance"
*Mindful storytelling and movement activities
*Anatomy, physiology, and the nervous system
*Techniques for falling asleep, dealing with stress, anxiety, and social emotional challenges
What you receive:
Meditation tools to share with children right away; inspiring community; seasoned mentors; a certificate of completion; 30 hours towards Yoga Alliance Kids Yoga Teacher Training or CEU's.
Mindfulness for Children Training
January 24 – March 14, 2023
8 Tuesdays, 4:00-5:30pm PST and
2 Sundays, 12:00-3:00pm PST
Mindfulness practices for children relieve stress, build emotional resilience, and support a child's ability to learn. This 30 hour training will give you the tools to share a myriad of helpful mindfulness techniques with children. Through this training, you will explore and understand the power of self-regulation, co-regulation and attunement with children.
This is a training for adults to learn how to share mindfulness with children. Zoom sessions will be adults only. We encourage you to try out these practices with the children in your life outside of these classes, and then we can workshop your experience together during our sessions.
In order to support the children in our lives, we need to support our own well-being and regulation. For this training, we will commit to daily meditation and mindfulness practices that enable us to be available to attunement with children.
This training is for adults who are interested in cultivating self-care; people willing to do a bit of daily work; those interested in a cohort experience; who don't think they can teach "yoga"; counselors; classroom teachers; youth facilitators; parents; grandparents, aunts & uncles; anyone who works or lives with children!

Schedule:
Tuesdays, January 24th, 31st, February 7th, 14th, 21st, 28th, 31st, March 7th & 14th
Sundays, February 5th & March 12th

Where: Zoom
Join our free info session to learn more!
Tuesday, December 6th, 4:00pm PST. Register for the info session at https://www.devensisleryoga.com/event-details/kids-training-q-a/form
Kids Yoga Series
with Aly Long
Thursdays, 4-5pm
January 26 – February 16
For children ages 5-12. Join us every week for movement, mindfulness, games, dance parties, silliness, rest, and fun! Classes run at the same time as adult Slow Flow, so you and your child can enjoy your yoga practice at the same time!
Space is limited to 12 participants. Preregistration is required.
$59/4 week session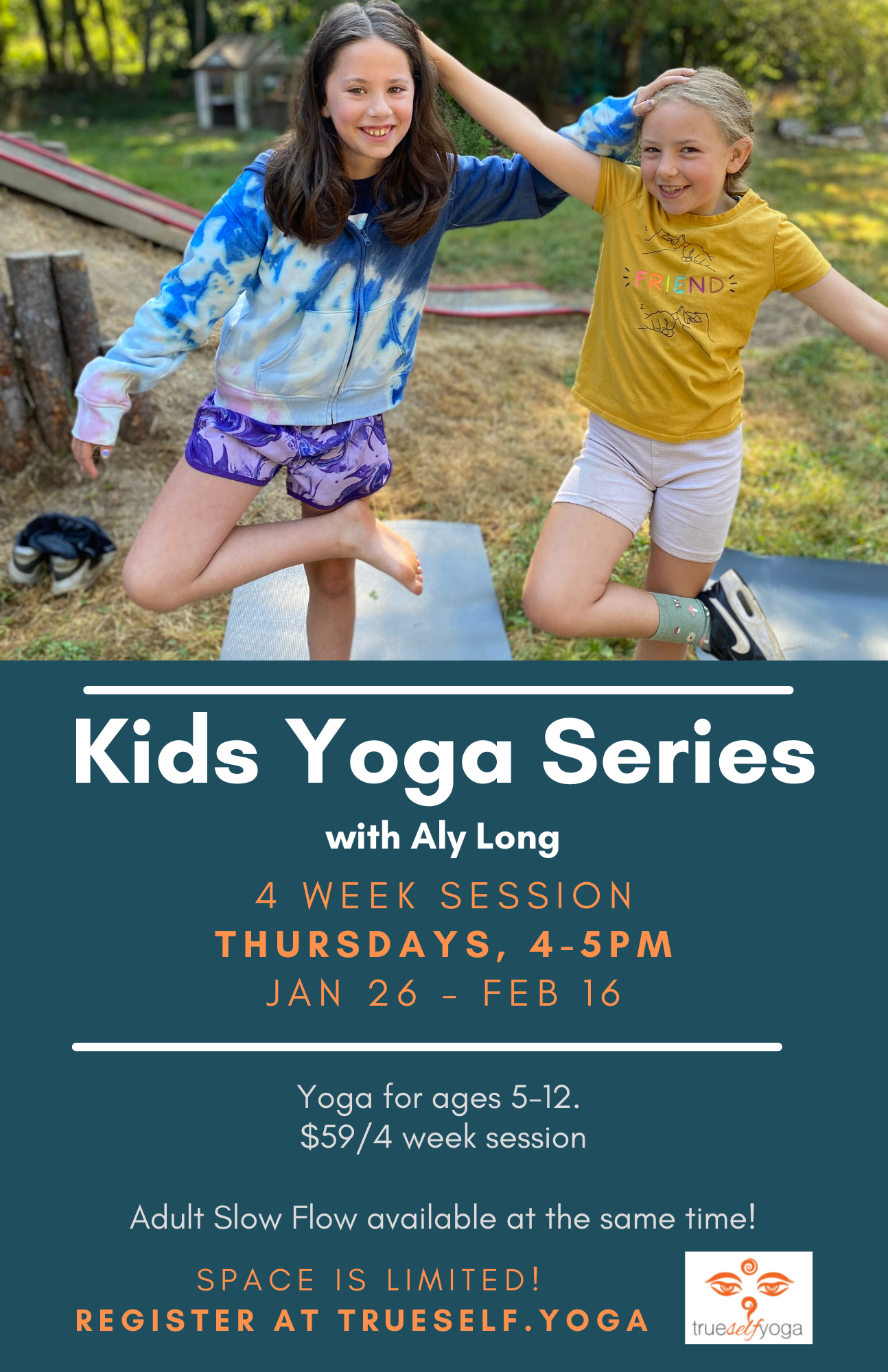 True Self offers ongoing and session based classes for all ages. For more info, email our Kids Yoga Coordinator at kellimaefly@gmail.com!
Family Yoga Play Group
For ages 0-4 with caregiver. Enjoy 2 hours of free play, nature exploration, yoga, mindfulness, music, and more! We meet at an outdoor preschool in the NE neighborhood of Olympia. 
Storytime Family Yoga
Children's books are integrated with playful yoga poses, animated breathing exercises, and imaginative relaxation techniques to help your child grow, learn, and enjoy the magic of yoga. In each class we will read and "move" a children's story. Ages 2-6 welcome with caregiver!
Yoga for Kids
Your children will move, play, balance, create, laugh, and relax in these dynamic, imaginative yoga classes just for kids! Children will learn to love their bodies, calm their minds, and engage thoughtfully with their peers in these rich classes for children ages 5-13.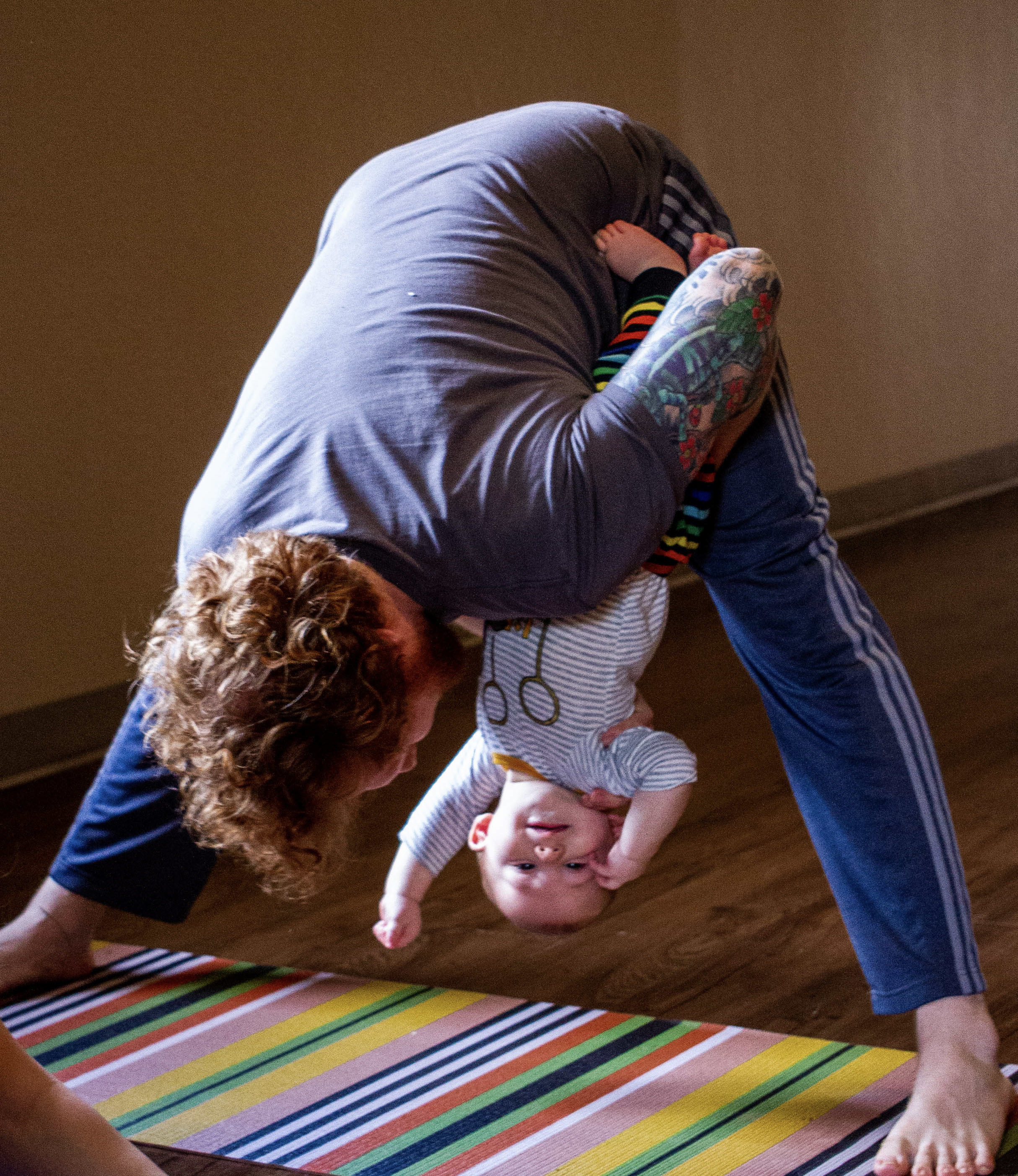 Summer Camp
True Self Kids Yoga camp welcomes ages 4-13 for half or full day camps that incorporate movement, music, meditation, crafts, outside time, and free play.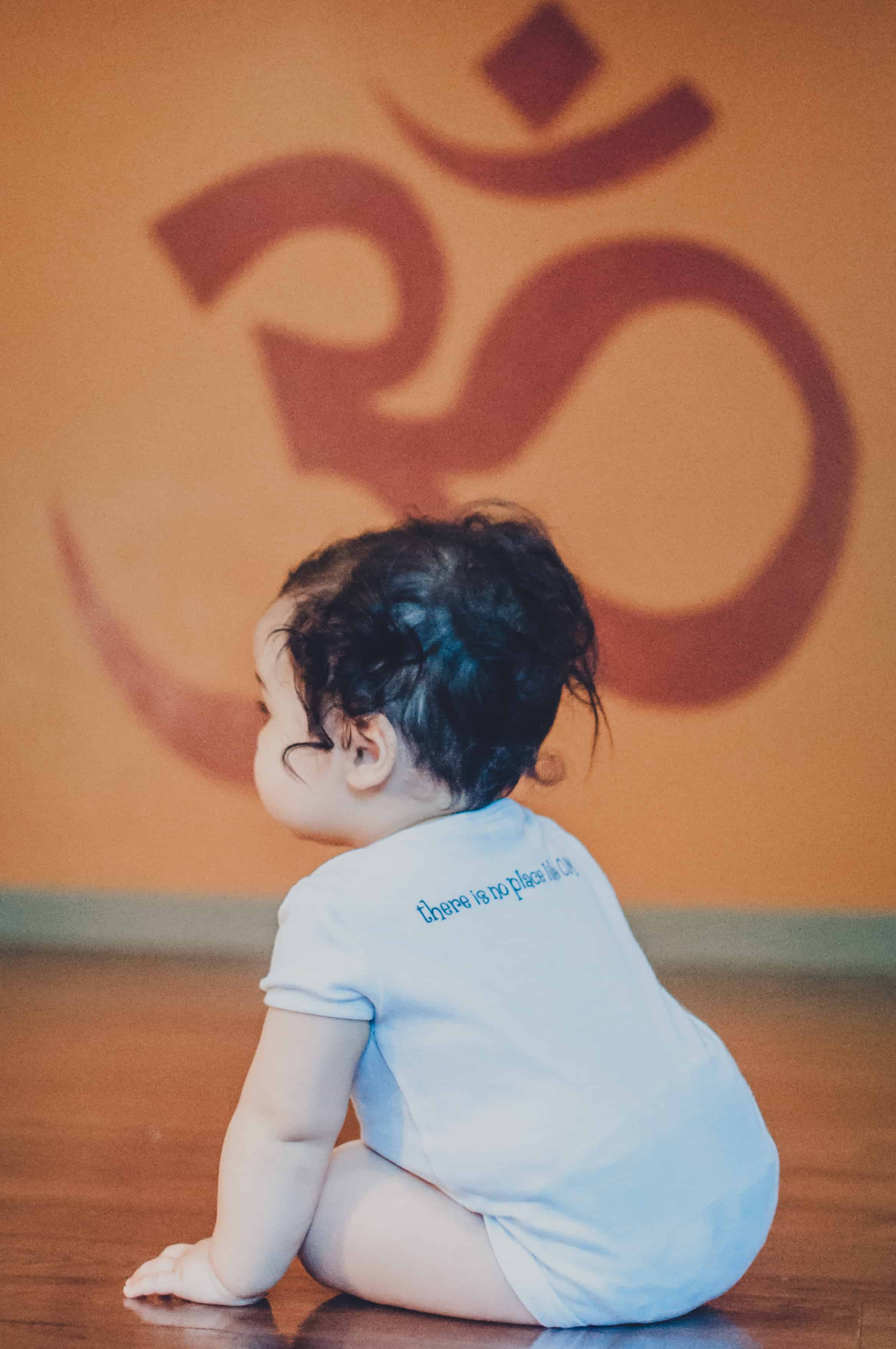 Little Movers Toddler Yoga
Yoga for you and your Little Mover! You and your child will enjoy songs, stories, movement, laughter and snuggles in this family class for the littlest yogis. Find new ways to play while encouraging healthy developmental movement and creative free play. This class is for mobile children ages 9-24 months and their caregivers.
Family Yoga Workshops
Playful yoga poses, games, stories, partner poses, massage, and more help children develop sensory balance, body awareness, and loving communication. Family Yoga Workshops are for adults and children of all ages to participate in partnership.
True Self Yoga is committed to bringing out the true self for you and your family. Join us for various classes to help bring relaxation, peace, and joy to you and your family members.
At True Self, we believe that Yoga truly is for everybody, at every age. Our Family and Kids Yoga classes offer children a playful, imaginative exploration of the practice of Yoga. Children are natural Yogis, and our trained Children's Yoga teachers are committed to nurturing the innate wisdom in each child.
Our wide range of Kids and Family Yoga classes offer developmentally appropriate practices for children and families of every age and type. Tiny babies are welcome at Postnatal Yoga, as well as all of their caregivers (not just moms!). Little Movers and Family Yoga give children the security of practicing with a trusted caregiver, while adults rekindle their love of play alongside their children. Preschool age children thrive in Storytime Yoga classes, bringing books to live creatively with Yoga movements. And school age children develop social skills, body awareness, emotional balance, and confidence as they explore Yoga principles and postures through relatable and engaging themes.
Imagine the world where children learn to love themselves, care for each other, and access a deep trust in their inner wisdom. At True Self, we believe bringing Yoga to children is vital to supporting healthy, balanced humans, and to creating a kinder, happier world.
What a magnificent studio oasis!
True Self is the best yoga studio in Olympia by far! Their variety of classes, from heated and regular, as well as their beautiful studio space, and the deeply passionate and knowledgeable owners all create a safe and supportive yoga community. - Sarah Burdette
They've created and hold space for their yogis so well that even the studio seems to have a sense of it's true self.
I've been a yogi in Olympia for about 10 years and True Self Yoga is the first studio that meets all of my yoga needs, and then some. When you visit True Self, you don't walk straight into a yoga room like most studios. - Camy Naasz
The heated room boasts a special heating system that you need to experience!
Beautiful space to practice with a variety of class offerings, great instructors, kombucha on tap and the latest yoga gear. Two studios: one heated and the other non-heated. Floors are always clean and they also have showers in the changing rooms, which is a must for hot yoga! - Rese Kim

With their combined yoga and meditation experiences and with deep roots in the Olympia community, husband-and-wife team, Vajra Romano and Christina Lagdameo, have established True Self Yoga with the mission to bring out your highest good.
Best yoga in Olympia.
- Adrienne L.
The best yoga experience I have ever had.
- Zac Jensen