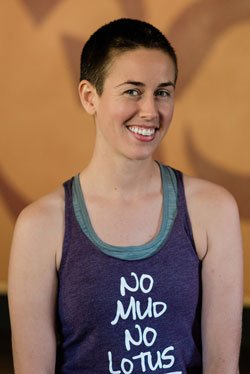 Alison Bailey she/her
Yoga Instructor
Alison was 18 years old when she took her first Hot Hatha yoga class in 2004. The traditional 26 & 2 sequence has been central to her well-being ever since.
More about Alison
A regular practitioner at Hot Yoga Olympia since 2013, she completed her instructor training there in 2019 and began leading classes right away. Alison is also a freelance writer and editor with an MFA from Goddard College.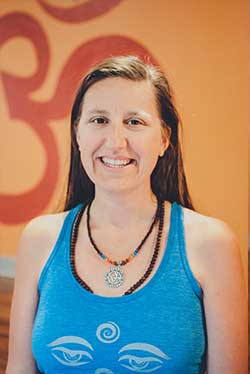 Aly Long she/her
Yoga Instructor
Aly Long loves yoga! She discovered yoga in college and her practice grew over the years studying both Hatha and Anusara yoga. Aly was called to teach after spending several months in India and Southeast Asia. This clarity came after meeting her Guru Amma(Amritanadamayi). Amma continues to be a strong presence in her life, practice and her teaching! 
More about Aly
Upon returning to the states, Aly completed a 250 hour yoga teacher training in 2008 and since has had the opportunity to teach in Tucson and Phoenix, Arizona as well as St Thomas, USVI. After moving to Olympia, Aly completed a 100 hour yoga teacher training. In Olympia, she discovered her passion for working with children and families! Aly loves to introduce yoga to people of all ages! Aly's classes encourage you to stay with the breath, listen to the body and to love yourself! Her classes are influenced by her extensive travel, nature and the seasons and embracing the present moment. Beyond yoga, meditation and chanting, Aly loves to be in nature moving her body or playing with her children! She loves to travel, speaks 4 languages and enjoys music from all over the world. Her 2 children bring an abundance of joy to her life and they are her greatest teachers! Aly loves to learn! She has a BA from the University of Arizona. After graduating from Oregon School of Massage, she practiced many forms of bodywork. Her background in massage therapy gives her a deeper understanding of the body and how it is all connected. Aly teaches Storytime Yoga for kids ages 2-6 on Wednesdays at 11am.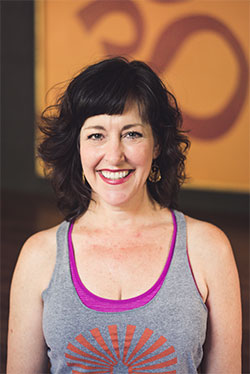 Anne Laderman she/her
Yoga Instructor
Anne is a teacher committed to yoga as a way of life. She is a certified yoga instructor (E-RYT 500HR) and Thai Yoga Therapist.  Anne has taught in California, Arizona, New Zealand and her current home of Olympia, WA. She deeply enjoys living in her beautiful co-housing community and spending time with her children and loved ones. Find her at her at
True Self Yoga
and join in-person or virtual class, as well as
teacher training
. She also leads
retreats
and
workshops
infused with love, yoga and most importantly – JOY!
Anne has studied with many master teachers and is especially grateful for her time with Ana Forrest, Saul David Raye and Monette Goetinck.
Annette McQueen she/her
Yoga Instructor
Annette's formal yoga training began at the White Lotus Foundation, in Santa Barbara, California, with Ganga White. Inspiration and passion fuel this instructor as she authentically shares her 25+ years of knowledge with yoga students as she guides them through pranayama, meditation, movement and sound. 
More about Annette
Annette regularly teaches Yoga Flow and Gentle Yoga. During meditations or savasana, she may share sound through her beloved Venus Gong or Carnelian Crystal Quartz singing bowl. Sharing yoga and the healing arts is her Dharma in this life.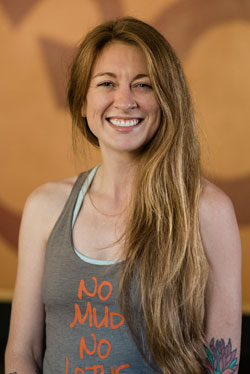 Brit Kiessling she/her
Yoga Instructor
Brit is a Californian grown, sunshine fed yogi. She completed her first 200 hour training in 2012 and hasn't stopped teaching since.
More about Brit
Her classes are full of energy, connection to breath and leave you with a greater understanding of your body. Yoga has been a gateway of acceptance and transformation for Brit. She aims for all students to utilize their practice as the greatest gift of self care through self discovery. When she's not in the studio, you'll find her hiking, backpacking, or spending time with her partner, Grant.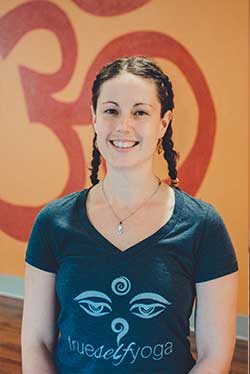 Chelsea Le Brun Gustafson she/her
Yoga Instructor
Chelsea is a registered yoga teacher (RYT), a biochemist and enthusiastic student of life. She believes that yoga can be used as an integrative practice to explore one's own body, mind and their responses to life experiences. 
More about Chelsea
Her classes are grounding and opening, based on alignment principles with a focus on moving with intention and cultivating balance. By cultivating a sense of light-hearted play and deep inquiry in her classes, she hopes to create a space where students can develop a deeper relationship with themselves and their world. Chelsea studied with Mark Stephens and Erika Abrahamian in Santa Cruz, CA and is constantly learning from her fellow yoga teachers and students.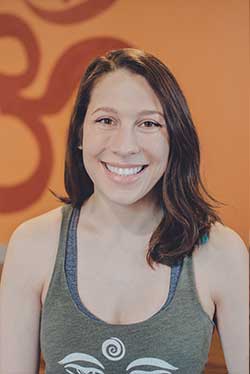 Chelsea Rosen she/her
Yoga Instructor
Growing up a competitive dancer, was an injury that brought Chelsea to her first yoga class at the age of 16. When she discovered that yoga was more than just poses, she was hooked. Through her personal practice, Chelsea has found healing of body, mind, and spirit, and she decided she wanted to be able to share that with others.
More about Chelsea
In 2012, Chelsea completed her 200-hour yoga teacher training, "Yoga and the Healing Sciences," at Loyola Marymount University in Marina Del Ray, California. This therapeutics-based training gave her insight into using yoga as a tool for healing. Soon after, she began teaching part-time in her then home of Los Angeles but she still wanted more. In May 2014, Chelsea spent a month in the jungle of Thailand and later that year another two weeks in Baja California training with Clara Roberts-Oss for a 300-hour Vinyasa training. There she dove even deeper into anatomy, sequencing, sacred scripture, and prenatal yoga, officially becoming a 500hr RYT in November 2015. She has been teaching full-time for the past few years in Ann Arbor, Michigan recently relocated to Olympia for her husband's job this past December. Chelsea believes yoga is for everyone regardless of limitations, injuries, or level of flexibility. She strives to help her students find awareness in their bodies in both a nurturing and challenging way. She believes in keeping yoga classes sustainable through thoughtful cues and a strong emphasis on alignment and acceptance.
Christina Lagdameo she/her
Yoga Instructor
Various losses in Christina's life brought her back over and over again to the practices and teachings in meditation and yoga.  The words of the young Buddha in Hermann Hesses's Siddharta resonated deeply with her, "[God] has robbed me, yet he has given me something of greater value . . . he has given to me myself." 
More about Christina
Her spiritual quest catapulted Christina into rigorous spiritual training at the Chozen-ji Zen Dojo in Honolulu and in Ashtanga yoga in South India. It was when she lived in Mysore, India for 3 years that Christina witnessed the transformative powers of yoga and meditation. Working with the nonprofit organization Odanadi, Christina shared the practices of yoga and meditation with survivors of human trafficking and was humbled by the experience. With this life-changing awakening, she made the vow to do her best to pass on the teachings to aid in others' journeys in self-realization. Before focusing on yoga full-time, Christina served the White House for 9 years in the White House Office of Management and Budget; and then served as President Obama's Deputy Director of the White House Initiative on Asian Americans and Pacific Islanders. She helped establish the Asian American Studies Program at the University of Maryland and received her Masters in Public Policy from the New School for Social Research in New York City.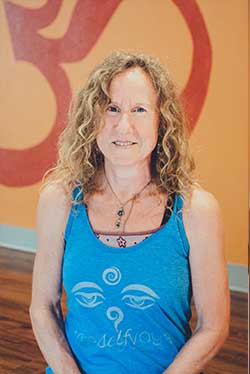 Connie Patnode she/her
Yoga Instructor
Connie has been a Massage Therapist since 1993 and found Yoga around the same time, like many massage therapists-who-turn-yogi in Olympia.  Connie has a holistic approach to health and well being. "What I have found from my own experience is that by connecting with one's body and breath you can heal the mind and rehabilitate the body. The body is our journal of experiences."  
More about Connie
Connie started with Iyengar yoga and found Bikram in 2000 and fell in love. She took the teacher training in 2011. What she loves about yoga is the connection and presence to oneself that it brings. It grounds you to your own power and authenticity. Connie strives to bring that connection to oneself to each class. Self love. Self awareness. The journey inward ripples outward. Welcome to the Journey.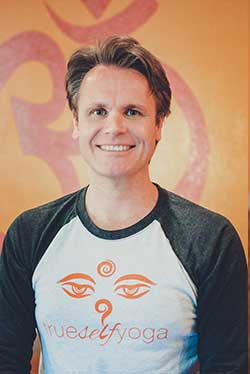 Dave Hutton he/him
Yoga Instructor
Dave has been involved with martial arts, sports and athletics his whole life. Throughout High School and College he was a competitive Fencer and after college he was a serious runner. Due to a severe back injury incurred playing sports back in 2000, Dave needed to find a physical, yet therapeutic and healing workout without incurring more stress to his body. 
more about Dave
He attended a Kripalu Yoga Seminar with Bikram Choudhury in 2001 and was immediately attracted to its philosophy and practice. He was inspired to attend Bikram's Teacher Training program later that year, with his wife, Jean, and then later together in 2002 they opened up their own Bikram Yoga studio called Bikram Yoga Larchmont. After 12 fantastic years of owning a yoga studio, Dave and Jean sold their studio and realized it was time to move to the Pacific Northwest, the land of Valinor! Dave has been a practitioner of meditation and the esoteric for over 25 years and strives to incorporate both Eastern and Western beliefs, ideas, and humor into his yoga practice and teaching. Dave and Jean continue their Jnana Yoga training with their spiritual teacher, Ramtha, at the Ramtha School of Enlightenment. Dave has been a certified Bikram Yoga instructor since December 2001. Feel free to talk to Dave about anything you like, especially his favorite TV show Ancient Aliens!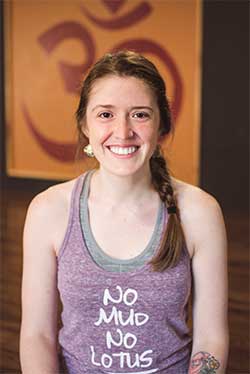 Ellie Lucas she/her
Yoga Instructor
Ellie graduated from True Self's 200 hr teacher training. She began practicing yoga 3 years ago when she moved to Washington for its physical benefits (and an alternative to the gym). She had taken a class a few years prior from a friend in New York and since then kept the intention in the back of her mind to one day try it out on a regular basis.  
More about Ellie
Since coming to her mat and regularly practicing it has become an important part of her life where she did find the physical benefits but discovered even greater ones on a mental and emotional level.
Completing the yoga teacher training was a way for Ellie to deepen her own practice and her understanding of yoga. The opportunity to teach came as a surprise that she has welcomed with open arms and is now looking forward to introducing and helping others cultivate their relationship with yoga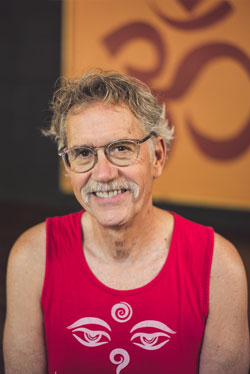 Fred he/him
Yoga Instructor
Fred has been practicing yoga for over 6 years and discovered True Self shortly after it opened – it was immediately clear that True Self was a very special studio.  After a busy career as an entrepreneur and business leader, yoga was the perfect transition to a more relaxed lifestyle and he took the opportunity to learn many forms and styles of yoga.
More about Fred
He chose to take his practice deeper and completed a 200hr RYT through True Self Yoga where a focused interest in Yoga Nidra developed. An apprenticeship followed where his gentle nature and soothing voice lead him to specialize in teaching Yoga Nidra mediation. Fred committed further by attending an iRest yoga Nidra Teacher Training earning a Level 1 Certificate.
His passion is to help people feel better and learn to connect to their inner place of well-being, peace and ease. He is honored to share the practice and feels a wonderful sense of gratitude for having the opportunity help people relax and deal with the challenges of everyday life.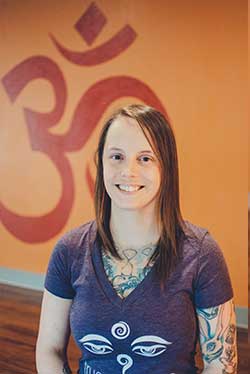 Holly Anderson she/her
Yoga Instructor
Holly Anderson is a graduate of the first True Self Yoga Teacher Training and is now a RYT-200. She first came to the practice at a young age, but it was not until pain and illness struck her body and began to affect her daily life, that she really pursued yoga more seriously.
More about Holly
She found that yoga began to provide balance and healing of the body and mind that she was struggling to find in other arenas and slowly began to commit to a more regular practice of yoga, meditation, and mindfulness. It was not until her first visit to magical India, however, that she truly saw and felt the ways in which the practice would forever shift her life towards true health and happiness. This new path soon lead her to Olympia and to the wonderful community here at True Self, where she began to bring a more daily practice into her life and felt the draw to share that practice with others.
Her main passions for teaching yoga are to help others to find a place of calm and balance that they can come to within their daily lives and to bring the practice to those who might otherwise feel that yoga is inaccessible to them for any reason.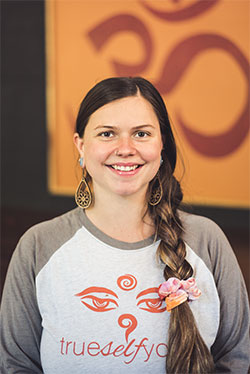 Jade Land she/her
Yoga Instructor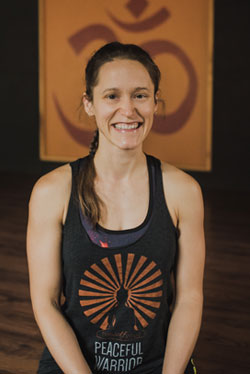 Jazmine Fox-Stern she/her
Yoga Instructor
Jazmine began a playful yoga practice as a small child and cycled through various asana and pranayama practices as life progressed. Yoga anchored and enriched her other somatic inquiry methods of dance, Aikido, partner acrobatics, seated meditation, and playing in nature.
More about Jazmine
In 2010, her ravenous curiosity about healthy joyful embodiment developed into a satisfying career as a certified Rolfer, working with a form of bodywork that develops grace and minimizes pain through enhancing the biomechanical efficiency of your body in daily movements. She loves helping people troubleshoot discomfort and struggles so that their yoga practice becomes painless, restorative and strengthening, so feel free to ask her questions during or after class, or schedule a free consultation at OlympiaRolfingCenter.com Jazmine's growing interest in expanding her one-on-one practice to working with groups led her to participate in True Self Yoga's delightfully-enriching 2020 yoga teacher training.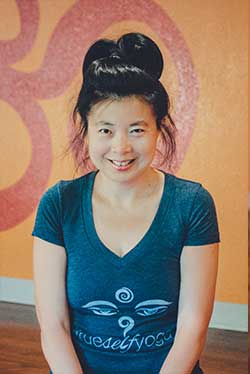 Jean Cho she/her
Yoga Instructor
Jean has been teaching Bikram and Hot Yoga for over 15 years.  Before that, for many years she taught aerobic classes at various YMCAs throughout New York.  As a lifelong athlete, Jean started to experience the effects of years of high impact stress on her body.  
More about Jean
After developing chronic knee and ankle injuries, she could no longer perform her normal workout routine and sought a different way to exercise and relax. This is when she turned to yoga. When she took her first Bikram class in 2000, the results were astonishing – no more pain and yet the class was physically and mentally challenging. In 2001, Jean attended Bikram's 2-month Teacher Training program in California, with her husband, Dave, and became a certified Bikram Yoga instructor. Soon thereafter, in 2002, Jean and Dave opened a Bikram Yoga studio in Larchmont, NY. While attending several events at the Ramtha School of Enlightenment, Jean and Dave became very enthused with the Pacific Northwest lifestyle. And, after 12 wonderful years as studio owners, it was time to move on and focus on other business and personal endeavors. In 2014, Jean and Dave sold their studio and moved to the great state of Washington to realize new experiences and to deepen their spiritual practice.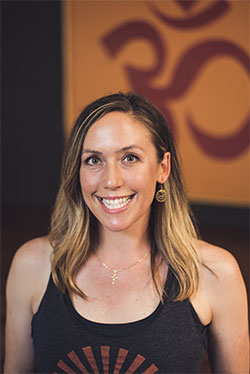 Jenni Tresness she/her
Yoga Instructor
Jenni was introduced to Hatha yoga in 2013, and since then her practice has blessed her life in ways she never could have imagined.
More about Jenni
In the beginning, yoga provided the mental and emotional relief that she needed while navigating some challenging life circumstances. However, she quickly realized that yoga was so much more than what she did on her mat, and she was eager to learn more. Yoga philosophy books began filling her bookshelf as yoga began extending into all areas of her life. She completed her 200hr YTT training in 2019, and added a Hatha apprenticeship with Vajra in 2021. With a focus on gratitude and joy, her intention is to be a conduit for her students, to the peace yoga brought her. Outside of yoga, Jenni is a full time pediatric echocardiographer, imaging the hearts of babies and kids born with congenital heart defects. Jenni greatest joy is being a mom, and she loves enjoying the Pacific Northwest with her family on their sailboat.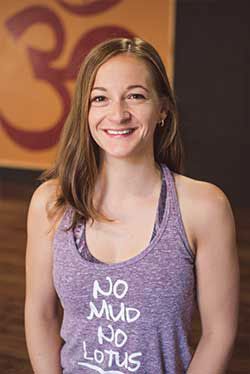 Jessica Riefler she/her
Yoga Instructor
Jessica was introduced to yoga and meditation by her mother in 2008 at Baltimore Yoga Village, and she has been practicing ever since. True Self's 200 Hour Yoga Teacher Training, and thereafter completed a Hot Hatha Apprenticeship with Vajra Romano. Jessica is inspired by meeting people on their journey to the Self, and enjoys instructing with specificity and precision. 
More about Jessica
When Jessica entered law school in Seattle in 2012, what had become a daily practice gave her coping mechanisms for stress and anxiety, as well as added flexibility and conditioning for the outdoor activities she enjoys, such as rock climbing and running with her dog. Jessica is a 2019 graduate of True Self's 200 Hour Yoga Teacher Training, and thereafter completed a Hot Hatha Apprenticeship with Vajra Romano. Jessica is inspired by meeting people on their journey to the Self, and enjoys instructing with specificity and precision.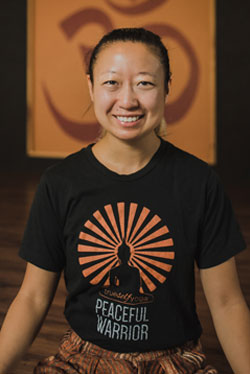 Julia Zhao she/her
Yoga Instructor
Julia is a trauma-informed yoga therapist and home care aide, with over 1,000 hours of training in Yoga, Tantra, and Ayurveda.
Her experience of immigrating as a young child has fueled a lifelong search for spiritual meaning and wholeness. She discovered yoga in her early twenties, and it has helped her find spiritual connection, resilience, and steadiness through many big and small life challenges.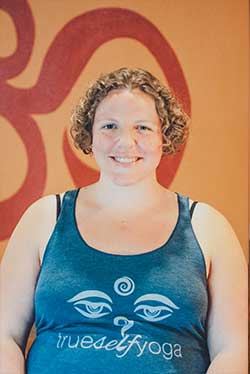 Kelli Mae Willis she/her
Yoga Instructor
Kelli Mae is a certified teacher of yoga, AcroYoga, CircusYoga, Children's Yoga, Prenatal Yoga, Meditation and Mindfulness, and Waldorf education. She coordinates our Kids and Family Yoga program and leads Children's Yoga Teacher Training weekends at True Self.  Kelli Mae brings her dynamic, playful teaching style to all of her classes, for children and adults alike!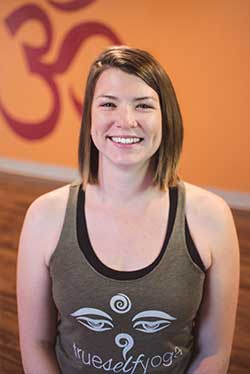 Kehle Potegal she/her
Yoga Instructor
Kehle was drawn to the physical advantages of yoga in 2009, but it wasn't until much later that she began appreciating and integrating the emotional and mental benefits into her daily life. As a stay-at-home mom with a dream of becoming a yoga teacher, she pursued her 200-hour RYT at True Self Yoga, complimented by an apprenticeship with Christina Lagdameo.
More about Kehle
Practicing and teaching yoga doubles as Kehle's quality "me time" while also giving her a space to support and encourage others in her community. Kehle loves to greet new people with radiating warmth and is passionate about teaching yoga in a fun yet challenging style. Get ready to laugh, decompress and walk out with a smile on your face after class with Kehle.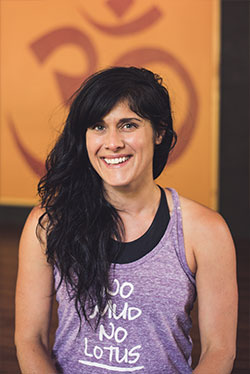 Kristi Lyons she/her
Yoga Instructor
Kristi is an E-RYT® 500 seasoned yoga instructor, teacher trainer, athlete, and an advocate for social justice, environmentalism, and inclusivity. Her curiosity keeps her dedicated to learning while constantly evolving, believing that the work – microcosmic to macrocosmic – is never truly done. Kristi is a skillful storyteller, which makes her classes unique and creative as she artfully weaves yogic philosophy and Ayurveda throughout the practice.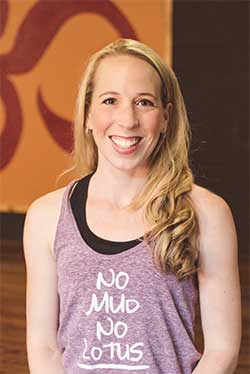 Laura Deaton she/her
Yoga Instructor
Laura first came to the mat for a good workout, what happened was far more beautiful then she could ever have imagined. Linking breath with movement became a peaceful dance for her, a journey with herself, a wonderful way to discover to her truth. This has proven to be hugely healing, and a wonderful way to navigate through life's ups and downs.
More about Laura
Laura has always felt drawn to be nurturing and show others she cares, whether this is with a smile, a hug, or a body positive message in class, she strives to touch many lives with smiles, love and laughter.  Laura is a graduate of True Self's RYT-200 followed with an apprenticeship under Vajra Romero.
Laura's life has been in perpetual motion, from early childhood, she found joy in expressing herself with her physical body, she explored motion through dance, taking ballet, jazz, and tap, she also experimented in gymnastics. As an adult she continued a life of movement, exploring various activities, and techniques, taking pilates, barre, and piyo.  It was not until she made her way into her first yoga class that she realized the true joy she felt on her mat, connecting her breath with movement tapped into her childhood joys of self-expression. Laura believes you are always learning, constantly growing and continuously healing both on and off the mat.  As a wife, and mom of two wonderful children, yoga provides a beautiful blend of self-care, love and community for Laura.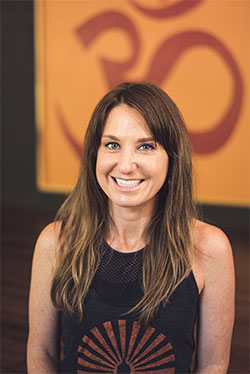 Leah Harvey she/her
Yoga Instructor
Leah Harvey is a 200 HR RYT, and Certified Holistic Nutritionist. After years of being a dedicated yoga student, she began teaching in 2017. Like so many yogis, Leah showed up for the physical benefits of yoga and found a path that offered so much more, and truly feels honored to share this practice.
More about Leah
She has experience teaching in all settings- gym, boutique, and private- although most notably proud of creating a strong yoga community overseas in Tunisia where she lived prior to moving to Olympia.
Leah completed her YTT through Life power Yoga after falling in love with its unique style. Emphasizing creative flows, her instruction allows each student the freedom to navigate a personal connection between mind and body through breath and movement.
Outside the studio, Leah has dedicated her business to helping women live their most vibrant lives through Mindful Nutrition and Movement. She specializes in helping women overcome obsessive diet habits and patterns by combining so many of the lessons learned on her mat with simple nutrition strategies.
As a Military Wife, she also provides yoga to Veterans and Service Members. She has worked with the Veterans Yoga Project to help raise awareness of the benefits of yoga and meditation for our troops and is currently studying to become a Trauma-Informed Level II teacher with Warriors at Ease.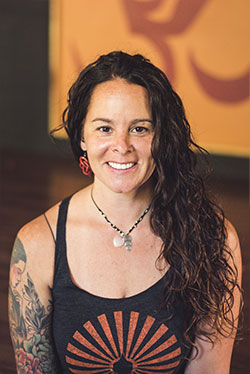 Lisa Ostler she/her
Yoga Instructor
More about Lisa
Throughout her career she has witnessed the failures of the healthcare system time and time again. This system breakdown encouraged her to complete her certificate, as an Integrative Nurse Coach with the 
Integrative Nurse Coach Academy.  A role that helps her focus on holistic health and wellness, without the confines of hospital walls. 
As her passion for health and the human body grew, so did her love for Yoga. She initially came to Yoga in college to help with the stressors of Nursing School, as well as a more mindful way to move her body.  Over the past 20 years she has grown as a Yoga student, making her choice to become a Registered Yoga Teacher  both natural and easeful.  Since graduating from YTT at The Yoga Loft in Olympia, she has immersed herself  in the inner teachings of Yoga, graduating with certificates in the history and philosophy of Yoga, as well as Tantra Yoga.  She graduated from the Yoga Behind Bars program in 2020, as well as the 75 hour Social Justice in Yoga Intensive with Michelle Cassandra Johnson, at Skill in Action in 2021.  Her teachings express her deep rooted love for the Inner Wisdom, Philosophy and Roots of Yoga. Lisa has a love for learning and is forever expanding both her knowledge and experience.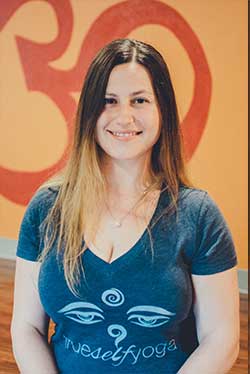 Rebecca Steiner she/her
Yoga Instructor
Rebecca is originally from New Jersey and has been on the West Coast for over ten years. She has a background in Education, Science and Art.  After many years of dental assisting, she found particular appeal in the rejuvenating and healing qualities of heated yoga, for both body and mind.
More about Rebecca
She began a regular practice at a Bikram studio in San Diego and was inspired to take classes of all styles. Rebecca (Becca) completed her 200-hour teacher training with Yoga Tropics in San Diego California, in 2012. In addition to leading weekly Hatha classes, she volunteered with the Sean O'Shea Foundation, a non-profit organization dedicated to bringing free yoga classes and nutritional information to San Diego's youth. She also donated classes every week to help children and families at the Rady Children's Hospital Oncology unit. Her positive outlook and nurturing energy will leave you feeling rejuvenated and relaxed.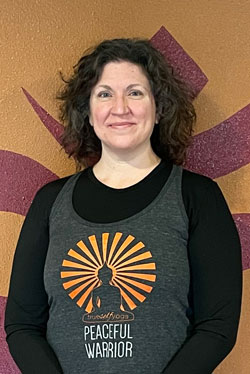 Sarah Gaden she/her
Yoga Instructor
Sarah has been practicing yoga for over 20 years.  Originally from Texas, she and her husband, Eric, and 2 sons traveled the world, finally settling in Tenino, WA in 2016.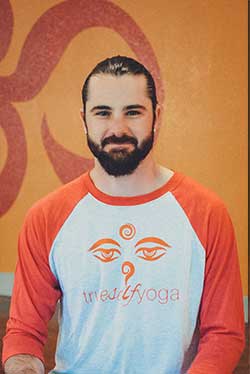 Vajra Romano he/him
Yoga Instructor
After graduating in 1999 from Capital High School in Olympia, Vajra went to the wilderness to contemplate the meaning of life. After a bad judgement in direction, Vajra spent seven days lost in Olympic National Park. During this time of desperation, with no food or certainty of making it out alive, Vajra was forced to turn inward and discover the indestructibility of his True Self. 
More about Vajra
After returning from a week alone in the wilderness, Vajra left Olympia on a pilgrimage to the far East. Arriving in Nepal, Vajra learned intensive meditation training from Tibetan Buddhist monks at Kopan Monastery www.kopanmonastery.com. Wishing to merge his spiritual training with a conventional education, Vajra enrolled at Naropa University in Boulder, Colorado. www.naropa.edu. and completed the only Bachelor Degree/ Yoga Teacher Training Program in the United States in 2006. For ten years, Vajra taught yoga classes throughout the Northwest, Washington DC and Hawaii. In 2016, now married, Vajra and his wife Christina teamed up to envision a yoga studio of their own. They took a leap, moved from their simple life on an organic farm on Kauai to Olympia, WA. where they would establish True Self Yoga. Life had brought Vajra back full circle to Olympia where he first began, to share what he had learned and fulfill his life's Dharma.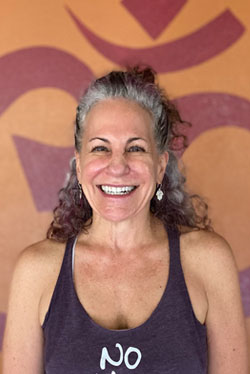 Wendy Diddy she/her
Yoga Instructor
"No one is pain free…" Wendy has been practicing yoga for two thirds of her life. Scoliosis, spondylolisthesis, and an undiagnosed crack in a vertebra caused her years of great pain while practicing yoga, walking and even standing.
More about Wendy
She ultimately braved a lumbar fusion and after two years of physical therapy, discipline and gentle back-care yoga classes she can now truly enjoy all that yoga has to offer. Wendy has always loved what yoga brought to her body, mind and spirit; and, with a structurally safer spine she completed a 200-RYT yoga teacher training in 2020 at the (former) Yoga Loft in downtown Olympia, studying with Maureen Oar and Kristi Lyons.
Knowing how important the health of the spine is to your quality of life she focused her training on back-care and yoga's capacity for healing. Wendy loves the earth and the feel of its good soil between her fingers and toes. She pays attention to nature to better understand its gifts of life. She grows most of her own fruits and vegetables as she listens to the sound of every bird in her garden. She has a background in nutritional therapy and knows the value of real food. You will find Wendy in her kitchen or in her garden when she's not practicing yoga.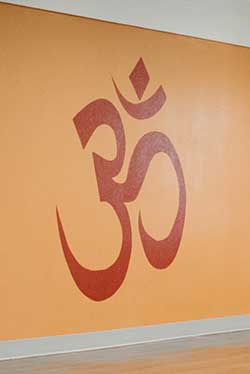 Blu she/her
Yoga Instructor
Blu practiced Yoga intermittently for many years till a family crisis combined with a climbing accident lead her to Yoga for healing 2008.  Since then it has become one of the pillars of her life. She became a Hot Yoga instructor in 2012, and is a graduate of the 2019 True Self 200 Hour Vinyasa Teacher Training.
What a magnificent studio oasis!
True Self is the best yoga studio in Olympia by far! Their variety of classes, from heated and regular, as well as their beautiful studio space, and the deeply passionate and knowledgeable owners all create a safe and supportive yoga community. - Sarah Burdette
They've created and hold space for their yogis so well that even the studio seems to have a sense of it's true self.
I've been a yogi in Olympia for about 10 years and True Self Yoga is the first studio that meets all of my yoga needs, and then some. When you visit True Self, you don't walk straight into a yoga room like most studios. - Camy Naasz
The heated room boasts a special heating system that you need to experience!
Beautiful space to practice with a variety of class offerings, great instructors, kombucha on tap and the latest yoga gear. Two studios: one heated and the other non-heated. Floors are always clean and they also have showers in the changing rooms, which is a must for hot yoga! - Rese Kim

With their combined yoga and meditation experiences and with deep roots in the Olympia community, husband-and-wife team, Vajra Romano and Christina Lagdameo, have established True Self Yoga with the mission to bring out your highest good.
Best yoga in Olympia.
- Adrienne L.
The best yoga experience I have ever had.
- Zac Jensen